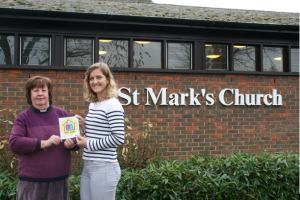 Vulnerable people now have seven places to go in Whitehill & Bordon if they are feeling overwhelmed or being bullied, abused or harassed while they are out and about in the town.
St Mark's Church has signed up to the Safe Place scheme which is being rolled out across Whitehill & Bordon under East Hampshire District Council's Healthy New Town programme to make sure people have somewhere they can feel safe if they start to panic.
The addition of St Mark's Church means there are now seven safe places in the town offering refuge to anyone who feels intimidated or at risk while they are out and about.
Deborah Scott-Bromley, Church of England minister for St Mark's, said: "St Mark's is very pleased to be a part of the Safe Place scheme in the local community. We are happy to offer reassurance to anyone feeling vulnerable or unsafe when they are near the church and will do our best to help."
The scheme provides a place, with trained staff, for people to seek help or simply to just calm down and have some alone-time.
Easily recognisable by their bright yellow and red Safe Place sticker, the Whitehill & Bordon Safe Places are:
Tesco

Quebec Café

Forest Surgery

Badgerswood Surgery

Forest Community Centre

The Phoenix Theatre & Arts Centre

St Mark's Church
Cllr Ferris Cowper, Portfolio Holder for Whitehill & Bordon, said: "The Safe Place scheme has gone down extremely well with the residents of the town.

"We have had such positive publicity around the scheme that we have now had an additional venue sign up, thank you very much to St Mark's Church – it's great to have you on board!

"We now have seven safe places across Whitehill & Bordon which is fantastic, the scheme is really important as it means everyone can feel safe when they are out and about in the town."
If you would like to offer a Safe Place, please contact Rebecca Treharne, EHDC's Healthy New Towns Project Officer on Rebecca.treharne@easthants.gov.uk
Safe Place scheme grows in Whitehill & Bordon