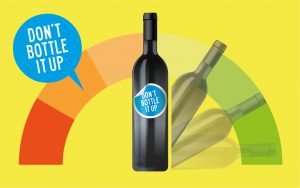 Don't Bottle It Up is a new online tool that allows people work to out how much alcohol they are drinking and how this affects their health.
The site is created by HAGA, Haringey's local community alcohol service, which supports people affected by alcohol misuse and is being rolled out across Hampshire by Hampshire County Council.

The test takes just a couple of minutes to complete and will give you an individual score that identifies how risky your drinking is. It also offers free, confidential advice and information on local support. 
In response to new evidence on the risks to health posed by alcohol, the official advice on sensible drinking limits is that both men and women are advised not to drink more than 14 units a week on a regular basis and to have several drink-free days each week. 
14 units of alcohol a week is the equivalent to drinking six pints of average-strength beer or less than a bottle and a half of wine. 
EHDC's Healthy New Town programme is supporting the scheme and is recommending residents of Whitehill & Bordon to get involved! 
Don't Bottle It Up – take the alcohol test!