Open spaces in Whitehill & Bordon are being sown with wildflowers to make them homes for pollinating insects.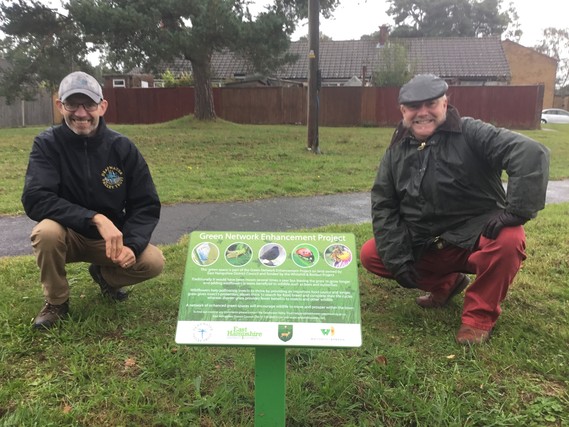 This project aims to improve green spaces within the town so that plants and wildlife can thrive.
Information signs, describing the wild flora and insects that can be found in the town, have now been included in the scheme.
Ten plots of East Hampshire District Council-owned land were either sown with a mixture of native wildflowers and grasses or will have the existing grass and flora cut less often to encourage more wildlife to use and move through the town.
Native wildflowers encourage pollinating insects to thrive and provide important food sources for these threatened insects. Leaving grass longer gives insects cover, allows them to look for food, breed and complete their life-cycles.
The new information signs were funded by East Hampshire District Councillor, Cllr Adam Carew, with a £988 grant.
Each councillor is given £3,500 to spend on projects in their local community, of which £1,000 must go towards environmental schemes.
Cllr Adam Carew, said:
"I am delighted to support this exciting project to re-wild Whitehill & Bordon using EHDC land to provide Green steeping stones across our town.  

"This initiative is well-timed. With species extinction happening across the planet including right here in Britain it is good to see that with sensitive mowing we can allow wild flowers time to flourish and set seed, providing maximum nectar for pollinating insects such as bees and butterflies, longer grass for small mammals and insects for wild birds, boosting wildlife biodiversity right across our town, as part of our Green Vision."
The areas in Whitehill & Bordon included in the scheme are Alma Road, Alpine Road, Apollo Drive, Champney Close, Ennerdale Road ,Garnet Road, Monument Chase, Neptune Road, New Road and South Hurst.
Re-wilding Whitehill & Bordon's green spaces