EHDC helps Whitehill & Bordon centre achieve sought-after national recognition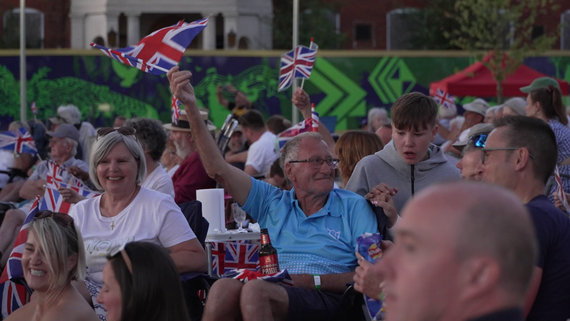 The Phoenix in Whitehill & Bordon has been awarded prestigious National Portfolio status that includes crucial funding received by fewer than 1,000 arts organisations across the country.
On Friday 4 November Arts Council England announced the centre, on Station Road, will be a National Portfolio Organisation (NPO).
The designation means it will receive funding for the next three years and provides the centre with a huge boost at a time when many organisations in the arts sector are struggling to survive.
The Phoenix was chosen for this prestigious status due to its dedication and skill at bringing the arts into the local community and working with young people and disadvantaged groups.
Our officers supported the theatre in making its application for NPO status. Thousands of arts organisations nationwide submitted bids but The Phoenix was one of only 990 to be successful.
Rob Allerston, Director of The Phoenix said:
"With this decision Arts Council England has recognised the hard work of many and our drive to deliver community-focused arts in Whitehill & Bordon. Personally, I'm excited by the opportunities this will unlock and the creative voice it'll offer to so many."
Visit the Phoenix Theatre and Arts Centre website
Phil Gibby, Area Director, South West, Arts Council England said:
"Arts Council England is delighted to be welcoming The Phoenix Theatre & Arts Centre into the 2023-26 National Portfolio. This welcoming venue is an important part of Hampshire's cultural life, and we are pleased to be investing in it. The Phoenix has a strong track record of facilitating creative opportunities for local artists, as well as their programme of live events. This funding helps us to achieve the ambition of our ten-year strategy, Let's Create, particularly around supporting people to develop their creative skills and potential."
The announcement means the centre will receive revenue funding of £81,233 a year for three years, bringing financial security to deliver its diverse mix of entertainment and community arts projects.
Cllr Richard Millard, EHDC Leader, said:
"We are huge supporters of The Phoenix Theatre & Arts Centre and the incredible work they do to bring art to the people of Whitehill & Bordon and the surrounding area.

"This is the first time East Hampshire has had a venue with NPO status and it will put the town, and the wider district, on the cultural map.

"I am thrilled we have been able to help Rob and his team put together a successful application against such fierce competition from arts venues of all sizes right across the country."
Cllr Andy Tree, County Cllr and Leader of Whitehill Town Council, said:
"This is a well deserved reward for the hard work of all those involved in running The Phoenix and a great boost for the town of Whitehill & Bordon. This funding will enable an expansion of the issue-based work that is central to so much of their valuable contribution to the local community and further justifies the financial support that the town council has given through its Major Grand aid award. I am very proud that Whitehill & Bordon will have the only organisation in East Hampshire with NPO status."
With this year's NPO designations, Arts Council England has focused on making certain as many people as possible – no matter where they come from or what their circumstances – can get hold of the very best of art and culture on their high streets and in the community spaces of their villages, towns and cities.
The latest round of funding will benefit arts organisations, museums, and libraries in every corner of the country, with a clear focus on ensuring that investment is concentrated in those places that, historically, have been underserved.
Find out more about Arts Council England's NPO scheme
The Phoenix Theatre & Art Centre celebrates prestigious Arts Council status