The Green Loop
 As part of our vision for Whitehill & Bordon to be a green healthy and connected town, a Green Loop is currently being installed and, upon completion, will include the following:
A 7km loop encircling, and connecting, the new and existing town. It will provide a high quality, safe and well-signed route, which connects the town's greenspaces such as: the Deadwater Valley Local Nature Reserve (LNR),  Hogmoor Inclosure and Bordon Inclosure. All of which are managed by the Deadwater Valley Trust (DVT), Bordon Inclosure managed on behalf of the Whitehill Town Council and Hogmoor Inclosure in conjunction with the Whitehill & Bordon Community Trust and The Land Trust.  Plus, it will connect the Pocket Parks (Honey Pin Orchard and Nut Tree Meadow), the residential areas across the town, employment and town centre areas;
A secondary network of footpaths and cycle routes connecting the town to the Green Loop
Signage, landmarks and public realm enhancements – to support navigating your way around the town.
How is this being funded and who is delivering it?
The Green Loop Project is being delivered by East Hampshire District (EHDC) and Hampshire County Council (HCC) and funded from the EM3 Local Enterprise Partnership (LEP) and developers' contributions. The links within the new development sites are being delivered by the developers.
Why are we doing this?
The delivery of the Green Loop will help to create new, and enhance existing, walking and cycling routes in and around the town necessary to increase active travel.  The aim is to reduce car journeys and encourage people to walk and cycle for commuting, leisure and exercise purposes.
When will it all be completed?
The Green Loop should be finished by the end of 2023. For further updates please visit Hampshire County Council here.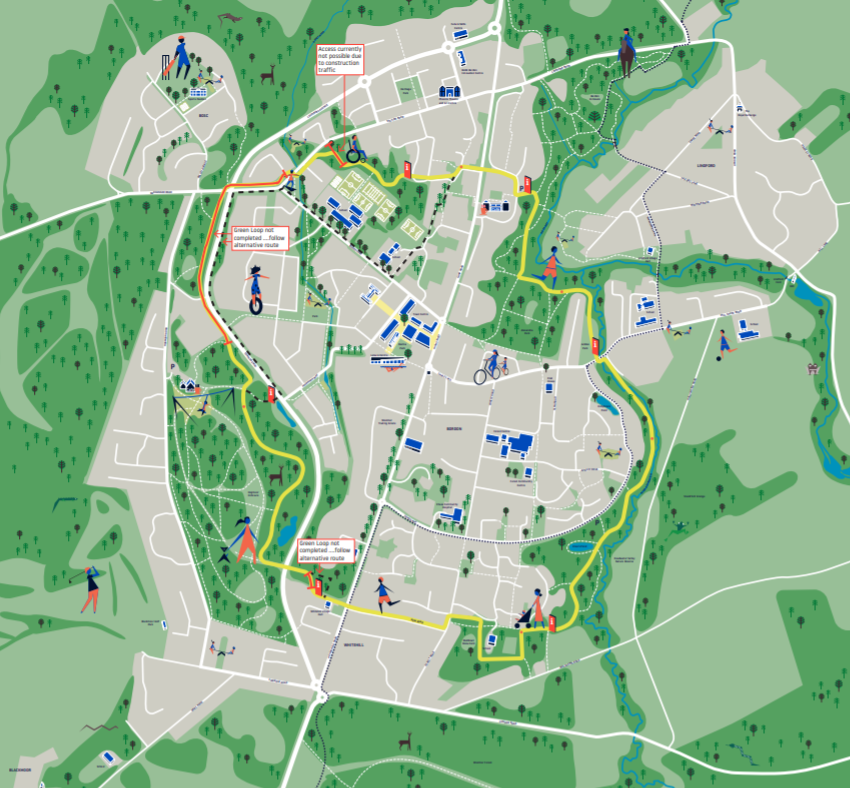 Wayfinding Project
As part of the Green Loop project, the Wayfinding Project has helped make it easier for pedestrians and cyclists to navigate and move around the town.  The Wayfinding Project has installed signage, landmarks and public realm enhancements to help navigate your way around the loop.
East Hampshire District Council is worked with Urban Place Lab and Hampshire County Council with the support of Whitehill Town Council to develop the Green Loop project through the Wayfinding Project. Making is easier for everyone to navigate and move around the town.
What has happened so far?
A number of community engagement activities were carried out in November 2020. This involved:
The distribution of 750 school packs;
The delivery of 5 online workshops with landowners and the community; and
Site visits with stakeholders.
The key messages from the community online workshops sessions on key aspects that were important to them were:
Colour – Careful choice of colour, Heathland based colours have been chosen in keeping with Bordon's Landscape.
Consistency – Wayfinding items to be consistent for legibility around the Loop.
Convenience – Making sure the network is convenient for use.
The key messages from the engagement with the school via activity packs were:
Active– Opportunity to be active such as cycle paths, trails and skateboarding.
Play – Play equipment such as swings, slides, adventure play or play areas.
Rest – Places of rest such as benches, tables, rain and sun shelter.
The Result?
As a result of these community workshops over 40 wayfinding items in and around the Green Loop have been installed. A sensitive use of colour which is consistent with the town's heathland surroundings has been adopted, whilst ensuring the designs are consistent, yet bespoke to Whitehill & Bordon help create a sense of discovery, reward, rest and play. These items are also being built by local suppliers. The items include:
6x large totems;
15x smaller totems;
4x benches;
10x large blocks;
11x small blocks; and
3x stacker blocks.
For more information on summary of material used, colour palette, location and images of the wayfinding project please read here.
What happened next?
The next stage was to use points of interest to create a sense of discovery, reward, rest and play called "Diamond Moments", this is something that local children within the school's engagement said they wanted.
In October 2021, volunteers planted 4,500 spring flower bulbs of 9 variations at a community bulb planting event. Read more about the event here.
The Solstice Winter Walk identified areas of additional directional signage and a location for our next Diamond Moment on Quebec Terrace gardens. This viewpoint proposal has been agreed with Whitehill Town Council Committee in March 2022.
The Diamond Moment complete with log stacks, tree planting, wood piles, steps and public realm improvements to create the opportunity for future community activities, seating, climbing and play opportunities and discovery in the woodland. A place to engage with nature, use your imagination, picnic, enhance biodiversity and create a mindful moment to pause. Read more about the Quebec Terrace Diamond Moment here.
How can I get involved?
Whitehill Town Council have produced drone footage transforming you to a day in the life of the Green Loop. To read all about the project and watch the video click here.
Keep an eye out for this at key locations in the town and on social media to share with your friends and family.
Betterpoints app is a points system which uses technology to record activity, points can be exchanged for rewards such as prize-draws, vouchers, or donate to charity. To find out more read Sarah-Jane's success story here or find out more here.
The Latest News
Planning Awards 2022. We are so excited to announce the Green Loop Wayfinding Project Whitehill & Bordon was the winner of the Award for best use of arts, culture or sport in placemaking category at the Planning Awards 2022. East Hampshire District Council worked with Urban Place Lab and Hampshire County Council with the support of Whitehill Town Council and Whitehill & Bordon Regeneration Company to develop the Green Loop project through the Wayfinding Project and would like to thank them all for their contribution to this great project. Read more here.
Royal Town Planning Institute (RTPI) South East Awards 2022.  The project was also recognised with two wins at this prestigious planning event in the Best Project and Joint Winner of the Best in Region category. Read more here.
The project was then also shortlisted for the Royal Town Planning Institute (RTPI) National Awards 2022 in the Excellence in Planning for Health and Wellbeing category.
Want to know more?
We have gathered a selection of frequently asked questions on the Green Loop and Wayfinding project for your information. Please take a look here.
Please do not hesitate to contact us via: